Panetta Institute Survey Shows Students' Outlook on the Future and the Direction of the Nation are at an All –Time Low
No Longer Believe the American Dream is Achievable
In the twenty-third year of its nationwide survey of college students, the Panetta Institute for Public Policy has found that college students' outlook on the state of the nation is at a historic low. Deeply dissatisfied with the country's political leadership, 70% of students believe the country is on the wrong track and a staggering 76% are uncertain or concerned about the future of the country.  Both results are all-time lows in the history of the Panetta Institute Poll.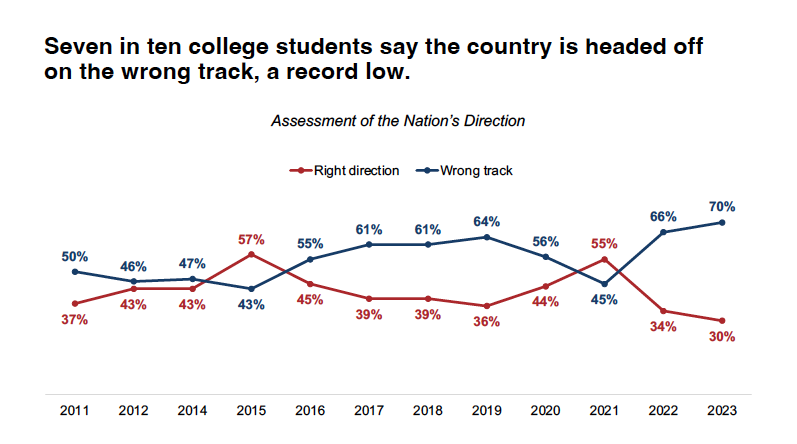 Students are deeply concerned about the future and the survey results suggest that many have all but given up on achieving the traditional American Dream.  Thirty-eight percent believe they will be worse off compared to their parents, the lowest result in the history of the survey.  Seventy percent of college students believe that it is harder for them to achieve the American Dream than it was for their parents and 38% believe they will be worse off financially than their parents.  At least 3 in 10 college students want to achieve the following, but don't believe they will be able to do so:  have enough money to retire comfortably (38%); be debt free (33%); own a business (32%); or own a home (31%).  Thirty-two percent of students believe that they will not be able to retire and will instead "always be working."
Click here for a complete report on this year's findings.2023 Survey Report (6-2-23).
Panetta Institute Announces the Annual Leon Panetta Lecture Series for 2023 – The Presidency and a Divided Congress:  Can They Govern?
Live In-Person Events Featuring John Boehner, Douglas Brinkley, Liz Cheney Steny Hoyer, David Petraeus, Bob Gates, Annette Gordon-Reed and Bob Woodward, Among Others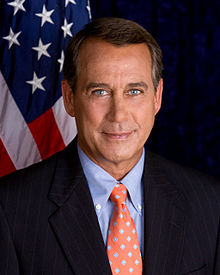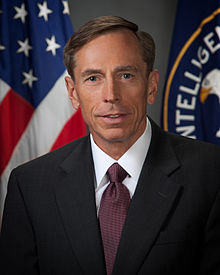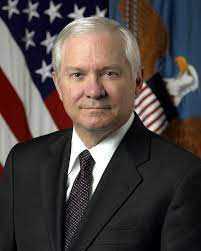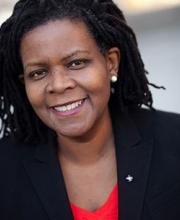 The Panetta Institute announced a return to live in-person events for the 2023 Leon Panetta Lecture Series.
This year's theme will focus on The Presidency and a Divided Congress: Can They Govern?  Joining Secretary Panetta in these important discussions is an impressive list of speakers covering economic issues, foreign policy and defense, partisan politics and history.
The events for the 2023 season are as follows:*
Monday, March 27, 2023 – 7:00 p.m. – 8:30 p.m.
The Economy and Inflation – Can We Avoid a Recession? 7:00 p.m. to 8:30 p.m. with Michael Boskin, professor of Economics and senior fellow at Stanford University's Hoover Institution and former Chair of the Council of Economic Advisers under President George H.W. Bush; John Harwood, journalist and former White House Correspondent; Maya MacGuineas, president, Committee for a Responsible Federal Budget; and Christina Romer, Garff B. Wilson Professor of Economics at the University of California, Berkeley and former Chair of the Council of Economic Advisers under President Obama.
Monday, April 17, 2023 – 7:00 p.m. – 8:30 p.m.  
Democracy vs. Autocracy – Can the U.S. Unify Allies in a Dangerous World? with Robert Gates, U.S. Secretary of Defense (2006-2011); General David Petraeus, U.S. Army (Ret.), Director of the CIA (2011- 2012); and Admiral James Stavridis, U.S. Navy (Ret.), NATO Supreme Allied Commander Europe (2009-2013).
Monday, May 29, 2023 – 7:00 p.m. – 8:30 p.m.
Message from the Midterms – Will Republicans and Democrats Listen? with John Boehner, U.S. Speaker of the U.S. House of Representatives (2011-2015); Liz Cheney, U.S. Representative (R), Wyoming (2017-2021) (invited); Heidi Heitkamp, U.S. Senator (D), North Dakota (2013-2019); and Steny Hoyer, U.S. Representative (D), Maryland.
Monday, June 12, 2023 – 7:00 p.m. – 8:30 p.m.  
History and a Divided Nation – Can We Survive? with Douglas Brinkley, Professor of History at Rice University and CNN commentator; Annette Gordon-Reed, American historian and Carl M. Loeb University Professor at Harvard University and winner of the Pulitzer Prizein History in 2009 and the National Book Award in 2008, for The Hemingses of Monticello: An American Family; and  Bob Woodward, Pulitzer Prize winning journalist.
"After two years of Democratic control of the presidency and both houses of Congress, the 118thCongress returns the nation to the realities of a divided government," said Institute chairman Leon E. Panetta.  "A single party has controlled the White House and the Congress only three times in the last three decades.  But, at a time when so much is at stake can the nation afford the risks associated with a do-nothing Congress?  Will the Congress act to raise the debt limit and avoid damaging our economy?  Can we avoid an economic recession?  Will the new Congress remain unified in support of the war in Ukraine?  Will the Congress work together and avoid gridlock?  Finally, are there lessons we can learn from history that can guide us forward in this divisive time.  I'll pose these questions to our impressive list of speakers."
Subscriptions to the program include tickets to all four live events and are available for $400.  Individual tickets sell for $100.  Forums will be held live at the Monterey Conference Center.
The Panetta Institute for Public Policy Awarded
Senators Richard Burr and Jeanne Shaheen,
and Congressmen Adam Kinzinger and Bennie Thompson
the Jefferson-Lincoln Awards at Twenty-Second
Evening to Honor Lives of Public Service that was held on
Saturday, November 12, 2022
The Panetta Institute for Public Policy announced the recipients of its 2022 Jefferson-Lincoln Awards. This year the annual awards were presented to U.S. Senator Richard Burr (R) of North Carolina, U.S. Representative Adam Kinzinger (R) of Illinois, U.S. Senator Jeanne Shaheen (D) of New Hampshire and U.S. Representative Bennie Thompson (D) of Mississippi.  The honors were conferred at a black-tie gala dinner held at The Inn at Spanish Bay in Pebble Beach on Saturday, November 12, 2022.
Commenting on the honorees, Institute Chairman and Co-Founder Leon E. Panetta said, "governing in our democracy depends on strong bipartisan leadership.  At a time of increasing challenges – from the economy threatened with inflation and a probable recession, to growing inequality, to the loss of critical freedoms and values, the threat to personal security and the threat to national security – we need leadership that is willing to work together. At this critical time, the Panetta Institute honors four leaders who are examples of the bipartisan leadership needed in our democracy."
The November 12 celebration also served as the premier fundraiser to help support The Panetta Institute for Public Policy and its mission to attract thoughtful men and women to lives of public service, inspiring them to a high standard of conduct and equipping them with the practical skills of self-government.  The gala featured a gourmet four-course meal and award-winning wines.
The Panetta Institute would like to thank their sponsors and supporters for their generous support.
Dignitary Sponsors:
Sherry E. DeBoer
Debra and George Couch III
Gordon and Ronda Eubanks
Cannery Row Company and The Don Chapin Company, Inc.
California State University, Monterey Bay
Susan Prest and Allen Sherwood (IM)
Sponsor of Distinction:
The Frank & Denise Quattrone Foundation; Denise Foderaro and Frank Quattrone, Trustees
Sponsors:
Tonya Antle
Beacon Global Strategies
Laurie and David Benjamin
Blue Shield of California
The Boeing Company
California American Water
Chevron Corporation
Dorian Daley and Michael Krautkramer
Dominican University of California
Driscoll's
Fenton & Keller
Koret Foundation
Stan McKee
Stan and Sharon Meresman
Oracle
Pacific Gas and Electric Company
Pacific Maritime Association/Sugerman Communications Group
Pebble Beach Company
The Peter G. Peterson Foundation
Susan Prest and Allen Sherwood (IM)
Salinas Valley Memorial Healthcare System
Santa Clara University
Southern Company
Stanley Zax
Zenith Insurance Company
Hosts:
AT&T California
Bank of America Private Bank
Michael and Chris Boskin
CommonSpirit Health
Al Glover and Guest
Kaiser Permanente
Katrina and Luca Maestri
Montage Health
Pacific Coast Building Products, Inc.
Julie Packard
The Panetta Family
Melissa and Shawn Rozsa
Vishal Verma
All Four Events in the 2022 Leon Panetta Lecture Series Now Available for Viewing
This year's Leon Panetta Lecture Series themed The 2022 Midterm Elections and the Future of Our Democracy focused on the midterm elections, foreign policy, the economy and voting.
Below are the dates and topics that occurred during the 2022 season.  Click on the event title to watch a recording of the webinar presentation.
Monday, February 28, 6:00 p.m.:  Who Will Win – Democrats, Republicans, Truth or Fear? featuring JAMES CARVILLE—Democratic Strategist and Political Contributor for CNN and KARL ROVE—Deputy Chief of Staff for Policy (2005-2007) and Political Advisor to President George W. Bush.
Monday, March 14, 6:00 p.m.:  Who Will Lead The World in the Fight Between Democracy and Autocracy? featuring HILLARY CLINTON, Secretary of State (2009-2012) and DAVID CAMERON, Prime Minister of the United Kingdom (2010-2016)
Monday, April 19, 6:00 p.m:  Who Will Deal with the Challenges in the Economy – Inflation, Inequality and the Debt? [part 2] featuring JASON FURMAN, Chair, Council of Economic Advisors (2013-2017) and WILLIAM DUDLEY, President, Federal Reserve Bank of New York (2009-2018).
Monday, May 2, 6:00 p.m.:  Who Will Vote and Will Every Vote Count? featuring KELLY AYOTTE, U.S. Senator (R) New Hampshire (2011-2017), BILL BRADLEY, U.S. Senator (D) New Jersey (1979-1997) and DAVID GERGEN, Presidential Advisor and Senior Political Analyst for CNN.
____________________________________________________________________________
Contact Us
The Panetta Institute for Public Policy
100 Campus Center, Building 86E
California State University, Monterey Bay
Seaside, California 93955